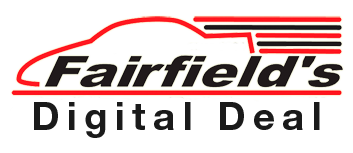 Payment Terms
We know it all comes down to the monthly payment. Fairfield's Digital Deal helps you calculate your payment by factoring in your credit rating, cash down or due at signing amount, length of loan or lease, taxes and fees, applicable incentives, and the value of a trade-in. Calculating real payments for a desired new Mitsubishi vehicle or any used car on your own will save you time when you visit our dealership to finalize your deal.
Value Your Vehicle
A key part of determining your monthly payment is the value of a trade-in. Use Kelley Blue Book to see what your current car is worth towards your new vehicle. Follow our simple steps to discover its value, and see that amount get applied to your deal.
Apply for Financing
After finding your ideal terms and monthly payment that fits your budget, the next step of the purchase process is applying for credit approval. Historically, this step involved filling out lengthy paperwork in the dealership. No more. With Fairfield's Digital Deal you can securely submit all the required credit information online.
Schedule Test Drive
We know most shoppers want to take a vehicle for a spin before finalizing their deal. We encourage a thorough test drive and demonstration of a vehicle's convenience, technology, and safety features. Fairfield's Digital Deal enables you to let us know a day and time you're available for a no-obligation test drive at our dealership.
Finish Your Deal
Having completed the steps of picking your payment terms, accounting for the value of your trade-in, applying for credit, and scheduling a test drive, your final move is to review your deal and submit it to us.